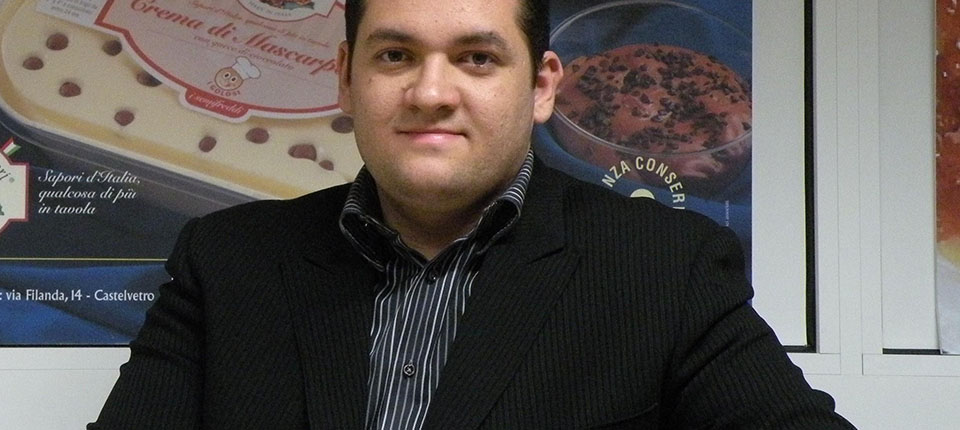 Chef Italia, where the customer comes first
14 February 2014
Ready meals, precooked and deep-frozen fresh pasta and much more besides: this is what comes from Chef Italia in Castelvetro Modenese, delighting consumers all over the world.
Each to his own taste, goes the saying, and there's no arguing with that: all kinds must be catered for. This old saying, which has become a firm market principle, appears to be the underlying philosophy of Chef Italia, the well-known limited company from Modena that produces fresh pasta and above all ready meals.
The hallmark of this company, which makes primarily pasta products, is its top-quality service, complemented by an extraordinary ability to adapt its products to the specific requirements of the consumer, whatever these may be.
"There are some dishes that do not appeal to consumers in the foreign countries we sell to, either because of the ingredients they contain or because of the way we prepare them here in Italy. Even here on the domestic market, where local customs can vary widely, the details of some recipes may vary from one region to another, or in some areas, consumers may request the use of one particular ingredient rather than another. In all these cases, our production adapts effortlessly to the demand, creating a specific recipe or making changes to the classic version, taking on board the suggestions we receive from customers. We're not tied down to standard products, preferring to create dishes able to totally satisfy a particular reference market and the customers who contact us. This is how we normally operate, and we try to do it as best we can, every time," explains Jonathan Sola, director of Chef Italia, a company he set up in 2011 together with his brother Alex and their partner Alberto Monari.
"What you do doesn't stop there, however," we'd be tempted to add, because Chef Italia is renowned not only for its ability to take on board customers' requests; the company is also well known for its exceptionally high-quality service, delicious products and a dynamic approach to sales that allows it to operate on both local and foreign markets. Above all, however, it is renowned for its experience in the field. It would be a mistake to think that the history of Chef Italia dates back just three years, to its foundation as a limited company: Jonathan and Alex Sola, the firm's production manager, were born into the trade, and the brothers spent much of their childhood running around behind the counter of a pasta business.
The family business dates back to 1977 in Castelvetro, one of the oldest and most attractive little villages in the province of Modena, where Luciano Sola and his brother Graziano set up a small workshop for processing meat products, followed by a pasta factory that ran two production lines, one for fresh pasta and another for ready meals.
The turning point came in 2002, when, amongst other developments, the company took on the name of "Modena Sapori", emphasising its sense of belonging to an area traditionally recognised as being synonymous with outstanding culinary traditions. It was then that the two lines for producing fresh pasta and ready meals were upgraded, and today – following a number of further developments and events involving the company – a new lease of life has been given in Chef Italia.
Following in the footsteps of their father and uncle, the founders of Modena Sapori, the two young Sola brothers, decided that their professional future, just like their family roots, lay in the food sector. Both chose to attend a catering high school in order to acquire proper training in the field from both a practical and academic point of view, while their partner in Chef Italia, Alberto Monari, boasts training more specifically oriented towards sales. When the time was right, therefore, it came naturally also to Alberto to take up the challenge offered by investing his outstanding skills in a new project in which he was called upon to play an entrepreneurial role.
It is their expertise – together with that of other top-flight professionals – that allows Chef Italia to achieve a daily production capacity of 5 tons (about half the potential of the plant), spread over five production lines. The dynamism and ability of the partners and their staff have allowed the company to expand into markets not only in France, Spain, Germany, Denmark, Belgium and Britain, but also further afield, in countries such as Japan and the USA and now also Mexico. Major retailers account for 65% of sales, but products are also present in the hotel, restaurant and catering channel.
A range of different products are offered, covering a huge variety of demand. In addition to the organic and low-calorie products that make up the Linea e gusto range, Chef Italia offers three traditional brands once sold by Modena Sapori.
One of these is Primo Amore, an extensive range of some forty specialities comprising not only pasta, but also rice dishes and single-serving deep-frozen second courses for the retail and catering sector.
The second is Pasta Express, precooked pasta that is deep frozen and packed in individual servings, sold along with a variety of traditional sauces.
The Pasta e Sapori range comprises some thirty special deep-frozen fresh pasta options for restaurants and the catering sector, or sold in 2 or 5 kg packs for the industrial sector.
Finally, Chef Italia's extensive catalogue also offers Dolci Golosi, a range of over twenty desserts, including chilled specialities and deep-frozen creamy desserts.
Chef Italia also works with private labels, which account for a substantial part of the company's turnover.
Individual portions account for about 80% of production, but other formats are available to meet customers' specific needs and to satisfy canteens, restaurants, etc., which have to deal with large quantities.
As regards certifications, the company is in the process of obtaining BRC, while Chef Italia has for some time now already been able to boast organic and halal certification, the latter in response to high demand from France and the UK, which have large Muslim communities. This will also prove useful for the company's plans to expand into the Middle East.
This is a company where tradition blends seamlessly and effectively with innovation, thanks to the combination of young, dynamic businessmen and the personal and family experience of the partners, which stretches back over three decades.
Nothing is left to chance in a company where customer care is not an obligation, but a mission.
Keep reading, download the magazine
PASTARIA DE (digital edition) 2014 n. 1 (ITALIANO) (21.0 MiB, 2,080 download)
Registrazione necessaria. Sign-up to download.
PASTARIA INTERNATIONAL DE (digital edition) 2014 n. 1 (ENGLISH) (23.9 MiB, 1,129 download)
Registrazione necessaria. Sign-up to download.