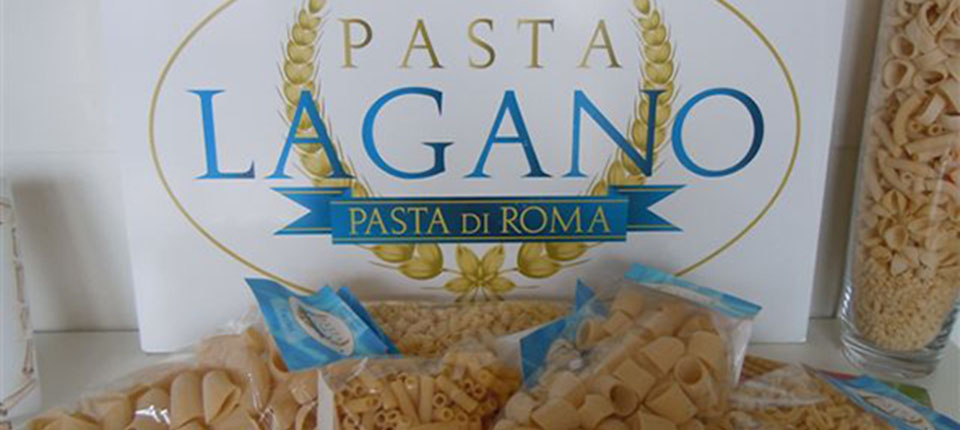 Pasta Lagano, Pasta di Roma
20 January 2014
A new company is producing top quality artisanal dried pasta in the capital of Italy: its name is Pasta Lagano, the pasta business of the Capannelli family.
by Oretta Zanini De Vita
Times being what they are, it certainly took a great deal of courage to open up a dry pasta factory in Rome, in an old district, clustered on the hills along the River Tiber, on the old Via Campana , where one of the very first industrial estates opened at the beginning of the 1900s.   And yet, Mr. and Mrs. Capannelli did not lose heart:  they set up lovely, large and well-lit premises, measuring approximately 150 m², fitted out with Pama Parsi Macchine machinery – press and dryer – and then simply rolled up their sleeves.  It was Luca, the owner, who one fine day told his wife he desperately wanted to start a pasta factory. Initially she must have given him a questioning and doubtful look, but with Luca knowing exactly what he wanted to achieve, it didn't take him long to talk her round. A truly Roman character, Luca won her over with stories of pasta dating back to the times of Ancient Rome, from the tracta (a type of pastry) mentioned by Apicius, to the lagana (fine sheets of dough which were fried) cited by the poet Horace, who loved to have them made to accompany chickpea soup, and it is from lagana, to highlight the Roman origin of its products, that the new company took its name 'Lagano'.
After attending a suitable course, and more importantly, after having managed to convince his wife that the project was a good idea, Luca took the next step of setting up the business. And the results, despite these dismal times, were not long in coming. At the moment just the two of them work there, with a few extra hands helping out during particularly busy periods, but the future, thanks to their excellent product, already looks bright.
At the moment the Lagano factory produces 1200 – 1500 kg of pasta a day, depending on the shape being produced. And their pasta is definitely something to write home about, as linked as it is to the Mediterranean region. They produce the now extremely popular and very Neapolitan, paccheri and mezzi paccheri, not to mention the calmarata, made to imitate sliced calamari rings (consequently, always best served with a fish sauce), and then there are the traditional shapes, such as penne and macaroni. In all they make around 15 different types of pasta to which they have now added pasta coloured with natural flavours.
The most popular pasta shapes are the trecce and the casarecce, which are like old-fashioned handmade pasta, excellent for capturing different sauces. They are now studying the idea of producing other, less common shapes, such as the old-fashioned "avemarie" (Hail Marys), the cooking time for which used to be measured by reciting one Hail Mary, and which in Rome have for some time now taken on the shape of tiny razor shells.
Over time, the company has become a leading producer of pasta of excellence and its pasta in fact is sold mainly in specialized wine shops and delicatessens, as well as to top quality restaurants. It can also be found in those supermarkets which offer customers little niches of special products and the quality of this pasta is really beginning to pay off, also in other cities outside the capital where Lagano sends its special pasta shapes, such as Turin and Florence as well as other large towns in the north of Italy.
In order to show off its products the owners of Lagano are often present at many of the top food sector events, such as the Taste show in Florence, or the New Food exhibition in Verona, as these are the events to which chefs from starred or prestigious restaurants are most likely to turn for information.
Nowadays the quality of  pasta is increasingly more the focus of all kinds of consumers, because crisis or no crisis, Italians will never go without a good plate of pasta, and this is something which today more than ever is appreciated for its quality and shapes not to mention a good sauce. And we are happy to see how this strange, tasty habit many people cannot do without, is becoming more and more widespread, even in cultures and on tables far away from Italy. And on that note, our very best wishes go to the hard-working producers of the excellent and oh, so Roman, pasta Lagano.
Keep reading, download the magazine
PASTARIA DE (digital edition) 2013 n. 6 (ITALIANO) (16.2 MiB, 2,751 download)
Registrazione necessaria. Sign-up to download.
PASTARIA INTERNATIONAL DE (digital edition) 2013 n. 6 (ENGLISH) (19.7 MiB, 1,324 download)
Registrazione necessaria. Sign-up to download.