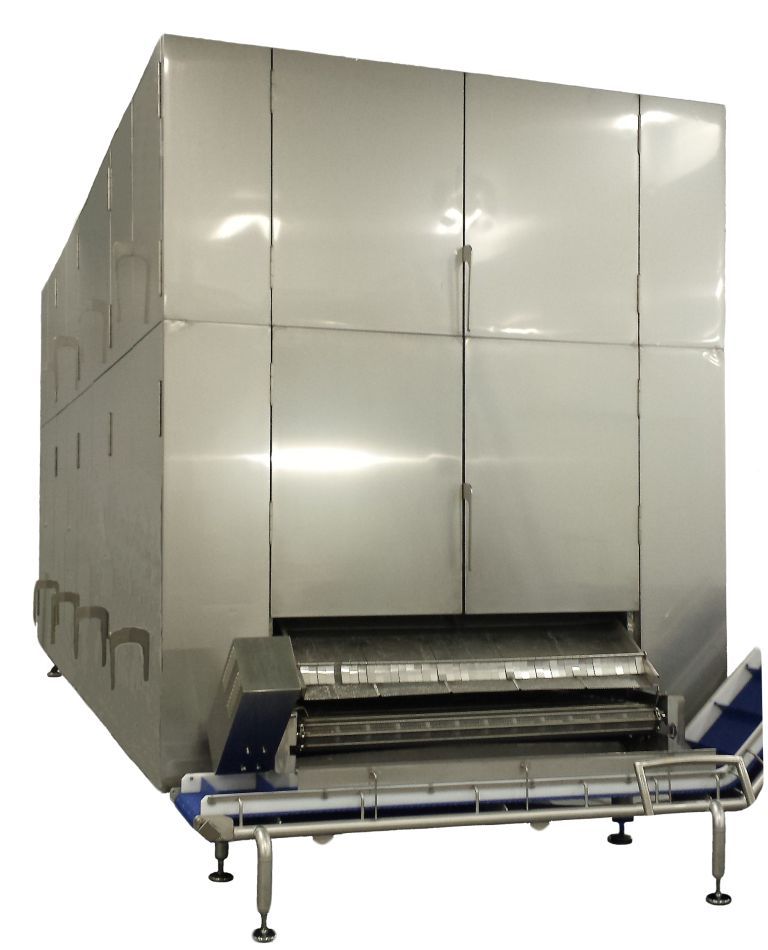 Thermal treatment for pasta: cooler mod. RF
4 March 2015
PTG offers a wide range of solutions for the fresh product thermal treatment to reduce the bacterial charge, avoiding the proliferation of the microorganisms causing the deterioration of both the nutritional properties and the organoleptic features of the fresh product, such as colour, taste and texture.
The belt cooler is used to decrease rapidly the temperature of fresh filled pasta and pasta sheet previously treated to the value required to guarantee the required shelf-life for the sales distribution. The cooling phase must be realized in a quick way to do not allow the re-activity of the enzymes and the proliferation of bacteria and thermo-sensible microorganisms.
Residence time and treatment temperature are set according to the characteristic of the fresh pasta product like shape, surface/weight ratio, filling quantity, type and composition, PH level, etc… as well as the request in terms of conservation once the pasta is packed. Usually, the last tiers are used to stock the product before the packing process.
Size and overall equipment dimensions are developed according to specific needs in terms of productivity and cooling desired effect.On demand, PTG offers customized solutions with more than one machine for the product conditioning (drier & cooler) placed on a single unit, saving the space in the working area.
MAIN TECHNICAL FEATURES:
Structure entirely made of stainless steel AISI 304;
Possibility to adjust the cooling time by modifying the conveyor belt speed, each belt is controlled by an independent motor managed through VSD;
Cooling exchanger with copper piping;
Efficient and uniform ventilation through axial fans activated by electric motor, managed by VSD for air flow modulation;
Insulating panels covered in stainless steel plated with polyurethane foam, PVC edges with tightness sealing; the frontal and lateral panels hinged for an easy access to the inner parts during cleaning and maintenance activities;
Machine fully washable with high pressure water and detergent;
Inclined bottom to facilitate the drainage of condensation and cleaning /rinsing water;
Transport belt net complete with lateral chain, pulling and return pinions, chain adjuster, all made in stainless steel;
Pre-arrangement for the C.I.P. Cleaning In Place system;
Machine provided with electric control board and touch screen for a quick visualisation of the process parameters.