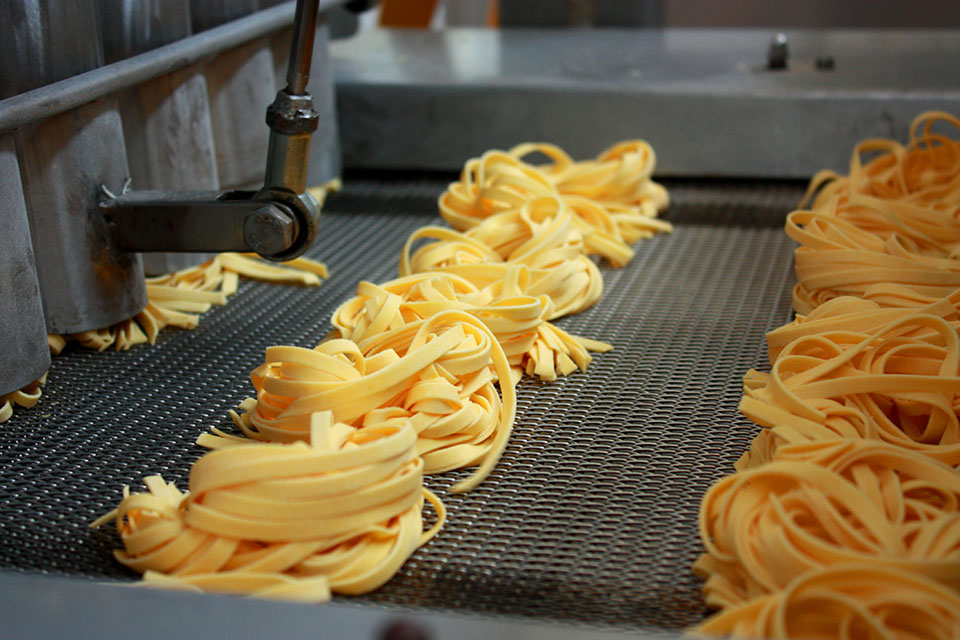 Pasta di Amante
27 February 2015
Eyes on export: Manuel Magni, representative of the second generation of this family-run pasta factory specializing in small-scale artisan production of quality short-cut pasta and long-cut nested pasta looks to foreign markets.
Di Amante or diamante? In Italian, a play on words for that most precious of gemstones, the diamond, and in both cases the name evokes significant, positive aspects. Considered separately, the two words ("di amante", in Italian, of a lover or enthusiast) bring to mind a glowing passion, and not just amorous passion. In essence, it is the passion that moves the world, whether for another person, art, or—as in this case—a profession. Without it, nothing would exist.
The term "diamante" (diamond in Italian), on the other hand, evokes something precious, unique and, as the ad says, that will "last forever".
This must have been the thinking of the Magni husband and wife team when, fifteen years ago, they decided to face the challenge and open a facility for producing dry pasta in Cura Carpignano, a small town in the province of Pavia. They wanted to give this new business a name that would be highly significant and a true expression of what they were looking to create: culinary gems made with love. The passion employed in making this marvelous pasta is obvious even to the most casual eye—or better—mouth. Tasting the pasta is a real pleasure, as is looking at it. Like a diamond, the nested pasta sits regally, elegantly, beautiful to behold, but also provides real satisfaction in the kitchen and at the table.
Roberto and Isabella Magni, partners for life first simply as a married couple and then also at work, with patience and tenacity decided to take on a sector which, although not completely new to them, still had its unknown aspects. With time, they have been proven right and the Pastificio Di Amante is a thriving business which, although perhaps not significant for its size, is certainly for its quality. As is so often the case, some time ago their son, Manuel, also found himself at a crossroads. Should he continue to work in the publishing branch of the entertainment giant Disney or follow in his parents' footsteps and provide a future for a company launched with such sacrifice?. It did not take him long to decide. In the end, his heart won out, preventing him from seeing vanish all the efforts of his parents on the business side only for a lack of new blood. But Manuel's decision was not just an emotional one. Reason also played a part. Like all the others, the food sector is also feeling the effects of the crisis, but the opportunities for high-level products with close ties to their local areas are holding out well. Therefore, it was impossible to think that for Pastificio di Amante, the future would be any less rosy than its past. For Manuel Magni, it was a lifestyle change that he has never regretted. Pasta was not an escape route, it was an opportunity. [hidepost]
With his entry into the company, the corporate structure was modified slightly, but production remained under the supervision of Magni Sr., who, over the years, has become a master pasta maker. Mauro Iseppi, the only member of the team who is not part of the family, is a valuable asset in the production area. "Signora Isabella" concentrates on packaging as well as other aspects of management. And Manuel, the most recent arrival, but now the managing director, follows sales and marketing where he is able to put into practice the expertise acquired in his years at the publishing multinational. Manuel Magni may be second generation, but he is not a veteran of this sector. Yet this does not prevent him having ambitious projects for the future in this field which, for him, is quite new. All projects based on quality. The next initiative is the creation of a certified organic line using exclusively Cappelli wheat. It is something he has been working on for some time and he expects to complete the supply chain in the early months of 2015.
Never more than in this case has the saying "small is beautiful" been more true. Output, although around 2,000-2,500 kilograms per week, is of the highest quality. There are two production lines: the first is for bronze drawn short-cut pasta, and the second is for nested pasta produced using their own version of a rarely-utilized method based on traditional, home-made methods. The production process involves lamination of the pasta sheet without mechanical pressing which would increase stress to the dough. This renders the pasta smooth and pliant, but at the same time enhances its ability to absorb sauce. In fact, once cooked, this specialty is more similar to fresh pasta than dry pasta. It is dried at low temperatures and is packed exclusively in transparent bags which allow for full visibility of the product.
It is impossible not to fall in love with the appearance, but above all the flavor of the nested pasta in all its varieties: tagliolini, fettuccine or pappardelle. This pasta shape, as well as the other specialties of the company offered in dozens of sizes and shapes, are available in packages of 500 g, one kilogram or loose for restaurants and stores selling by weight. Ho.Re.Ca. is the primary distribution channel for the Pastificio di Amante, but their products are also available through ethical purchasing groups and gourmet outlets.
For the moment, exports are only about 10% of their billings, but it is the foreign markets that the Magni family is looking to for the future. Their perspective is international and perhaps this is one of the elements that encouraged the company to take part in the iTQi Superior Taste Award competition where the egg tagliatelle of this Pavia-based pasta factory were awarded 2 gold stars. And we would bet that this will just be the first in a long list of international awards and recognition Pasta di Amante is destined to win in the future. [/hidepost]
Keep reading, download the magazine. It's free!
PASTARIA DE (digital edition) 2015 n. 1 (ITALIANO) (11.5 MiB, 3,088 download)
Registrazione necessaria. Sign-up to download.
PASTARIA INTERNATIONAL DE (digital edition) 2015 no. 1 (ENGLISH) (17.1 MiB, 1,267 download)
Registrazione necessaria. Sign-up to download.
[/hidepost]