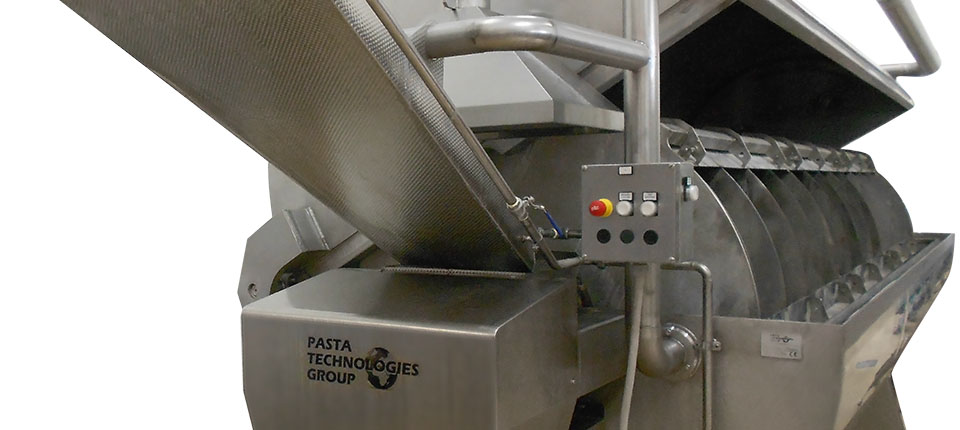 Pasta Technologies Group rotating cooker
7 July 2014
Precise cooking times, no product leftovers in the vat, easy to wash and clean, space-saving and low energy consumption: these are the main benefits offered by the new cooker launched on the market by Pasta Technologies Group.
by Pasta Technologies Group
Pasta Technologies Group, following the development of fresh pasta and precooked food manufacturers, is continuing its research to keep bringing new technological solutions to the market.
One of the latest is their rotating cooker which, following careful monitoring of the production executed by a prototype installed in a laboratory, has allowed Pasta Technologies Group to design and build a mechanically well-structured machine incorporating ideal parameters for the optimum cooking of filled pasta and short- and long-cut pasta, be it fresh or dried. The technology used means it can also cook rice, vegetables and other food products .
The product feed system, made up of a worm screw enclosed in a perforated sheet metal structure, ensures slow continuous motion of the product, preventing it from sticking and guaranteeing perfect progressive cooking in accordance with the set parameters.
The machine's construction ensures none of the product remains inside the machine longer than it should and stops it from being dispersed in the cooking water inside the vat, something which can occur in the traditional belt cooking systems. A careful study of the water/product ratio makes it possible to achieve high energy savings and a reduction in water consumption. On request, the cooker can be fitted with an automatic system for controlling and maintaining the percentage of starch dissolved in the cooking water, autonomously topping up with clean water, and an automatically controlled system for adding salt to the cooking vat made up essentially of a salinity control system and a brine tank. In this case, the whole structure is made from AISI 316 stainless steel.
The continuous worm screw rotating cooker requires only a small installation space in the factory, providing high production rates of up to 2,000 kg /h in half the space required for the installation of a belt cooker.
Choosing this type of cooker provides obvious benefits compared to the other machines used by the market until now, and these can be summed up as precise cooking times, no product leftovers in the cooking vat and easy washing and cleaning with the possibility of integrating an automatic pre-wash system. Combined with an efficient cooling system means it is possible to obtain a rinsed product brought to the temperature required for the subsequent processing stages, be it for fresh ready-meals or frozen products .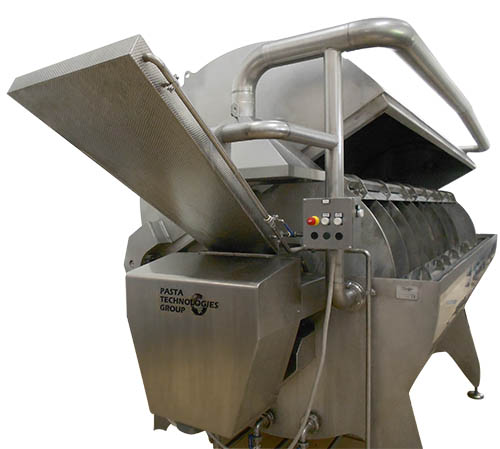 PTG is therefore once again proving to be innovative and proactive for companies operating in this sector, promoting machines which guarantee maximum production efficiency with respect for quality, hygiene in accordance with HACCP standards and energy savings; in short, everything industrial manufacturers need to improve the standards demanded by a modern and increasingly competitive market.
General technical data is provided in the table published on the previous page while further information can be found on the company's website at http://www.pastatechgroup.com/
PTG is always happy to carry out cooking trials and/or feasibility studies also for alternative products.
For technical data, download the magazine
PASTARIA DE (digital edition) 2014 n. 3 (ITALIANO) (13.5 MiB, 2,386 download)
Registrazione necessaria. Sign-up to download.
PASTARIA INTERNATIONAL DE (digital edition) 2014 no. 3 (ENGLISH) (17.3 MiB, 1,018 download)
Registrazione necessaria. Sign-up to download.