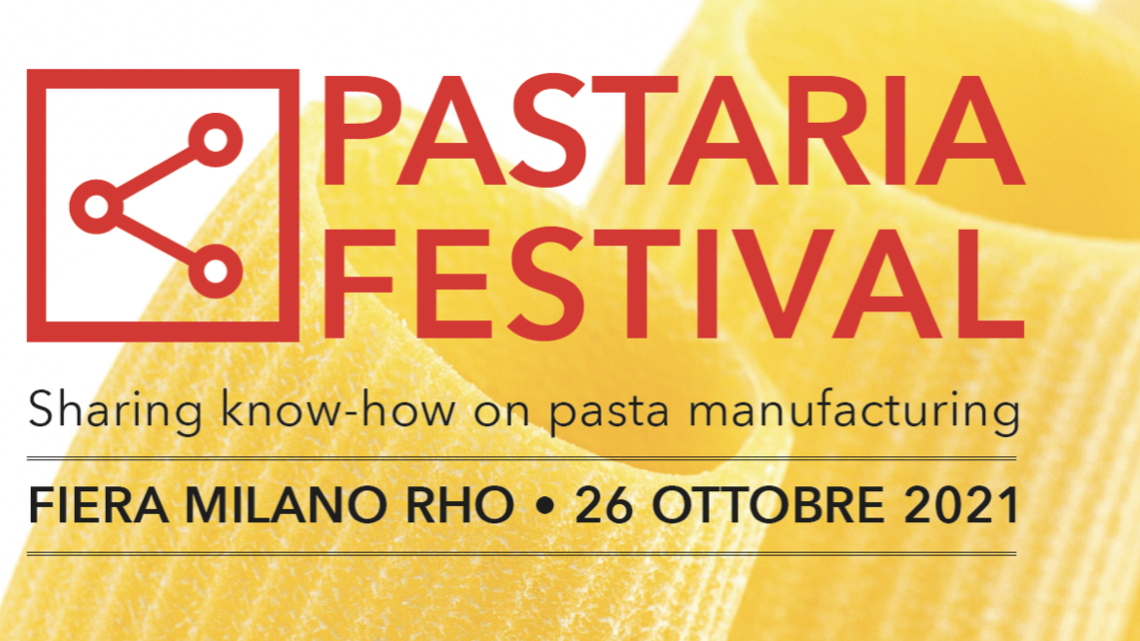 Pastaria Festival 2021, here is the programme
22 October 2021
The programme of the Pastaria Festival 2021, that will be held in Milan (26 October).
MORNING
 9:30-9:45 am
Admission of participants
 9:45-10:10 am 
Opening of the proceedings
Gherardo Bonetto (APPF), Riccardo Felicetti (Unione Italiana Food), Fabio Fontaneto (APPAFRE), Lorenzo Pini (Pastaria), Carl Zuanelli (IPO, NPA)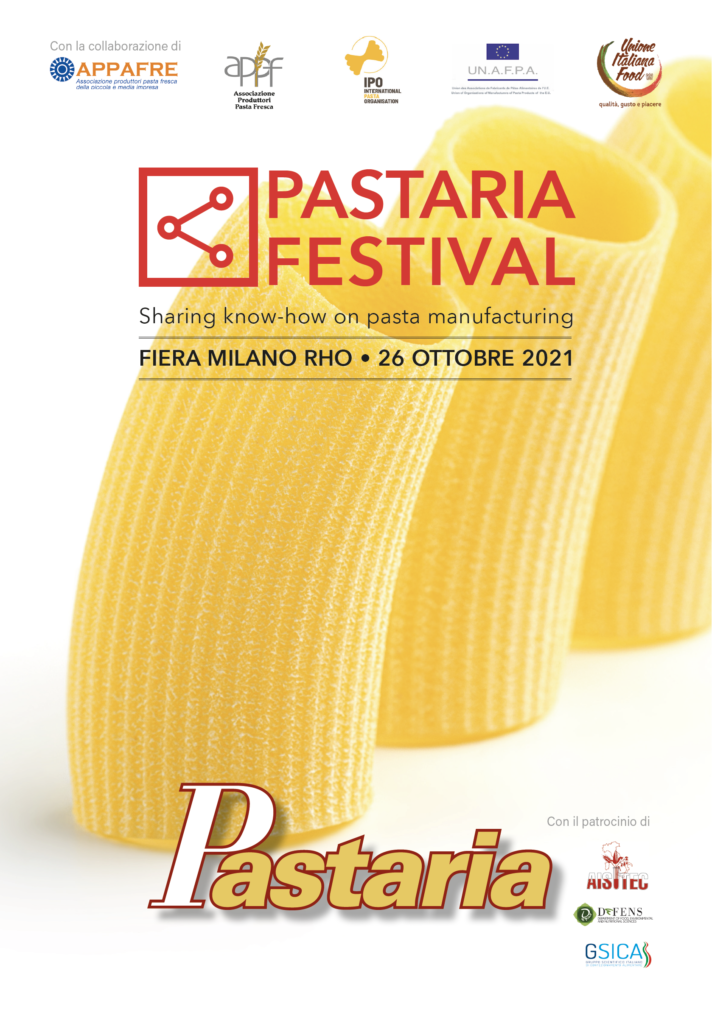 SESSION 1: PASTA PACKAGING
10:10-10:30 am
Design and innovation for pasta packaging
Fabio Licciardello (University of Modena and Reggio Emilia, GSICA), Elena Torrieri (University of Naples Federico II, GSICA)
10:30-10:50 am
Ecodesign and end-of-life scenarios for fresh pasta packaging
Francesca Mostardini (University of Parma, GSICA), Davide Pollon (Corepla)
10:50-11:10 am
The perishability of packaged fresh pasta during the distribution phases: the role of packaging gases and the characteristics of light sources
Sara Limbo (University of Milan, GSICA)
Questions and discussion
11:20-11:40 • BREAK 
SESSION 2: DRIED PASTA, INNOVATION AND SUSTAINABILITY
11:40 am – 12:00 pm
Legume pasta: innovation from the past
Alessandra Marti (University of Milan)
12:00-12:20 pm
Development of innovative pasta of high dietary and nutritional value and environmental sustainability
Emanuele Marconi (University of Molise)
12:20-12:40 pm
Protein extracts from insects to produce "high protein content" pasta
Gabriella Pasini (University of Padua)
Questions and discussion
 SESSION 3: PASTA AWARDS
12:50 – 1:10 pm
Designation of the Pastaria Awards for degree and doctoral theses on the subject of pasta
Ambra Bonciolini (Formulation of egg pasta fortified with tannins: assessment of antiradical activity and cholesterol oxidation), Emanuele Fagetti (Nutritional and health properties of pasta enriched with leftover carrot pulp extract capsules), Veronica Gallo (Modelling in vitro digestion as strategy in developing tailored food for specific consumer population)
AFTERNOON
SESSION 4: PASTA, HEALTH AND NUTRITION
2:20-2:40 pm
Digestibility of legume pasta
Elena Vittadini (University of Camerino)
 2:40-3:00 pm
Innovative wheats to reduce the glycaemic index of pasta
Francesco Sestili (Tuscia University)
Questions and discussion
 SESSION 5: FRESH PASTA AND QUALITY
3:10-3:30 pm
Fresh pasta produced from fermented durum wheat flours: technological and nutritional aspects
Pasquale Catzeddu (Porto Conte Ricerche)
 3:30-3:50 pm
Application of MAP packaging to increase the safety and shelf-life of filled fresh pasta
Marco Dalla Rosa (University of Bologna), Stefano Zardetto (Voltan)
3:50-4:00 pm 
Biofresh: ozone management systems for the containment of mould on pasta [sponsored presentation]
Luca Sivelli (Biofresh)
Questions and discussion
 4:10-4:30 • BREAK   
 SESSION 6: MARKET, CONSUMPTION AND GLOBAL TRENDS 
 4:30-4:50 pm
Promotion of short supply chains and local production in response to the COVID-19 crisis and the environmental emergency
Alessio Cappelli (Università of Florence)
4:50-5:20 pm
Pasta and new dietary habits: continuity and new trends
Sara Beretta (Nielsen), Matteo Bonù (Nielsen) 
5:20-5:40 pm
Away from home pasta consumption before and after the pandemic
Matteo Figura (The NPD Group)
Questions, discussion and closure of proceedings
 GENERAL ASSEMBLIES
The International Pasta Organisation (IPO) and the Union des Associations de Fabricants de Pâtes Alimentaires de l'U.E. (UNAFPA) will hold their annual general assemblies during the Pastaria Festival. Participation is reserved for member pasta factories.
INFORMATION
Date: 26 ottobre 2021
Place: Fiera Milano Rho
Time: 9:30 am – 6:00 pm (CET)
How to attend
Attendance is free-of-charge and reserved for those working in the sector. Places are limited.
In person
In-person attendees of Tuttofood will have free access to the Retail Plaza area of Pavilion 6, where the Pastaria Festival will be held.
Online
To attend online, follow the instructions provided in the free Pastaria App and in the Pastaria newsletter that will be sent immediately before the event.
Simultaneous translation
Simultaneous translation (English/Italian) is only available online, by connecting to the webinar from a computer, tablet or smartphone.