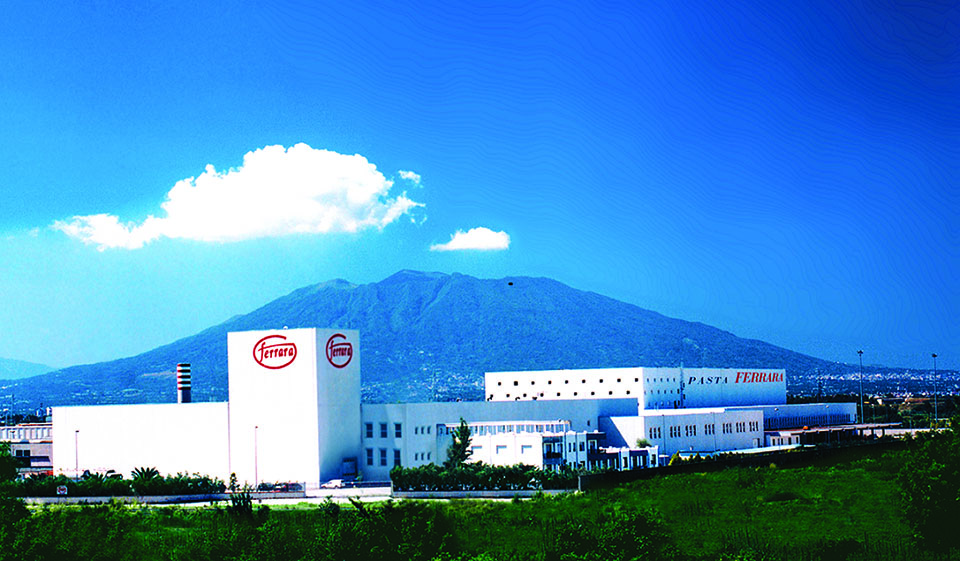 Pastificio Guido Ferrara
9 February 2015
A dynasty that, for five generations and without interruption, has handed down its craft, the production of quality pasta, first as a small family business and then on an industrial scale.
Pastificio Ferrara is the living proof that Campania is not just the land of fires, as it has been sadly dubbed, but that there are indeed enterprises worthy of being considered an example to the rest of the country. In fact, the pasta factory we are presenting today demonstrates how much this region has to offer in terms of excellence from every perspective, environmental and ethical included.
But let's go in chronological order in narrating over a hundred years of history of an extraordinary family dedicated to pasta like few others. A dynasty that, for 5 generations and without interruption, has handed down its craft, the production of quality pasta, first as a small family business and then on an industrial scale. It is impossible to summarise in a few words a path embarked upon – first as a family and then as a company – in the distant year of 1883 and still forging ahead today, without ever interrupting its pace. But it is also essential to underline that this enterprise, sustained by its prestigious past and by a tradition that has survived virtually intact, confirms its role in the market each day, gaining new market shares and new space in Italy and in the world.
If we were asked to list the distinguishing features of this pasta factory, located in Nola, in the province of Naples, we could not neglect to mention, in addition to the decisive role of the dedication of each member of the family involved in the business, the aspect of innovation and the tireless search for perfection in every choice. "Nothing here is left to chance," says Luca Ferrara, sole director of the Guido Ferrara SpA pasta factory. "Everything in our company is studied down to the finest detail and implemented with precision because upstream of it there is a precise way of thinking that may derive from environmental, production, economic, management or ethical considerations, or from all of these aspects put together," he adds.
Effectively the plant, which covers a total of 100,000 sq. m, 38,000 of which are indoors, is organised according to specific management systems but, even more important, its production lines – of which it has 11 to be exact, plus 40 for packaging – are conceived, designed and patented in the company and by the company. The continuous innovation of this enterprise is not just an imperative. It is a great deal more: it is a modus operandi which expresses itself both through its processes and through its products.
Of considerable importance, in the factory, is a plant (that cost over a billion, in the last years of the Lira) which has the extremely important function of purifying the water used in the production process in order to ensure that it meets the chemical and physical standards required for excellent quality pasta.
And with regard to the raw materials used, no longer having a mill at its disposal as in former decades, the Ferrara family now purchases semolina flour from third parties, but they only select the very best on the market.  Irrespective of whether this flour is of national or foreign origin, all batches arriving at the factory, without exception, are analysed in the in-house chemical laboratory, and only those meeting the stringent standards required for Ferrara pasta are unloaded into one of the production plant's 24 silos. All the rest are returned to the sender without delay.
The 120 employees – who like to define themselves "not like a company, but more like a big family" – go about their daily tasks within the factory following the regulations imposed by voluntary or mandatory food safety, ethical and environmental standards. The company is, in fact, BRC and IFS certified, but it has also been awarded certification in compliance with UNI 11381:2010, a system for monitoring insects in the food industry. And that's not all! The Pastificio Ferrara has also obtained the following certifications: UNI EN ISO 9001:2008, a standard that specifies the requirements for a quality management system; UNI EN ISO 22005:2007, for internal product traceability, ISO 22000:2005 for food safety management and, last but not least, organic certification.
The company's environmental protection policy also requires the use of the combined resources of electrical and thermal energy. The factory's thermoelectric refrigerator has a combined electrical output of 4,866 kW. Excess heat in the motors is recovered by means of heat exchange from exhaust gases, optimising the use of a conventional source of combustion and thereby decreasing greenhouse gas emissions, providing considerable energy – and hence economic – savings.
But the owner of the Pastificio Guido Ferrara – sadly recently deceased – will unquestionably be remembered, first and foremost, for patenting – quite some time ago – a high-temperature pasta drying system which, thanks to the ingenious insight of this remarkable man, is now extremely widely used. Guido Ferrara came to be known by his fellow industrialists of the Industrial Union of Naples as the "Poet Laureate of Pasta", a well-deserved title and yet another acknowledgement of his talent in having brilliantly combined the age-old passion for the "white art" as an artisanal speciality, with cutting edge technological innovations of an industrial origin, thereby improving the overall quality of the final product. [hidepost]
Today Pastificio Ferrara has a production capacity of 1000 tons of pasta per day, in 150 different pasta shapes. Five of these named Tirasugo, Di 5 in 5, Bucatini elicoidali, Siamesi and Pietre del Vesuvio respectively, have recently been patented. The Pastificio Guido Ferrara, both with its own brand "Pasta Ferrara" and with the private labels of industry and large scale distribution, in addition to having large market shares in Italy, Germany, the United States and Great Britain, is also gaining increasing shares in the markets of Asia, Africa and Australia. In particular, the "Pasta Ferrara" brand will, in the next few months, be at the centre of a targeted digital communication campaign.
The company's turnover in 2013 topped 68 million euros, 5% of which was dedicated to innovation, in keeping with Ferrara's classic corporate tradition which demands that a given portion of profits always be allocated to this purpose.
"How did we get were we are today?" Luca Ferrara answers without hesitation: "thanks to the passion shared by all members of the family for a start. We have had the good fortune of being able to hand down the company for five generations without ever having inheritance or succession problems, and this has allowed us to maintain a wealth of precious material and non-material assets intact. Also the transition from Guido Ferrara to this corporate structure, of which I am the sole director, was prepared very well in advance. Our father passed away in September but he had the humility to retire from the company 11 years ago, and to continue to support us behind the scenes, never interferingly, but always with the greatest of tact. For us, his four children, he was a discreet and attentive guide and now we are really feeling his absence, on all fronts. He allowed us to experience every aspect of the company so that we would understand it from every operational standpoint, whether it be from behind a machine or behind a desk. Now we have the onus, and the honour, of following the path that he so painstakingly forged for us". The Ferrara family continues to work as it always has done up till now, with enthusiasm, with a great sense of responsibility but, above all, with a forward-looking approach, at all times. [/hidepost]
Download the magazine 
PASTARIA DE (digital edition) 2014 n. 6 (ITALIANO) (10.8 MiB, 2,195 download)
Registrazione necessaria. Sign-up to download.
PASTARIA INTERNATIONAL DE (digital edition) 2014 no. 6 (ENGLISH) (12.3 MiB, 9,967 download)
Registrazione necessaria. Sign-up to download.