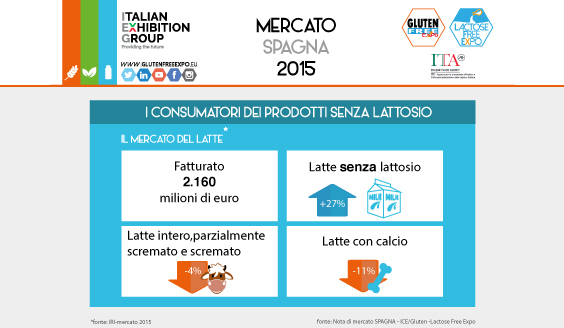 SPAIN AND FREE FROM PRODUCTS: A GROWING MARKET
5 June 2018
Thanks to the partnership started last year with Italian Trade Agency – ICE, Agency for promotion abroad and internationalisation of Italian business and Exmedia Srl, a merge of Italian Exhibition Group, that organize Gluten Free Expo and Lactose Free Expo, we present the market survey focused on free from market in Spain.
According to AECOC (Asociación de fabricantes y distribudores) the purchase of lactose free milk is around 7,8% of milk market: the turnover is around € 164 million and in the last few years has recorded a growth of more than 20%, regardless the market price is about 30-50% higher than conventional products.
Vegetable drinks such as almond, soy, rice, coconut or oats show a strong growth.
Regarding gluten free products, the purchase has increased by 75% thanks to the growth of non-intolerant people who choose to consume gluten free products because they are healthier. Indeed, 64% of people buy gluten free products and also wholegrain, light, organic or functional even if they haven't any kind of allergy or intolerance.
Gluten free products represent a growing sector in food distribution: they are increasing every year and in 2016 reached a sales volume of € 176,2 million in the retail distribution channel.