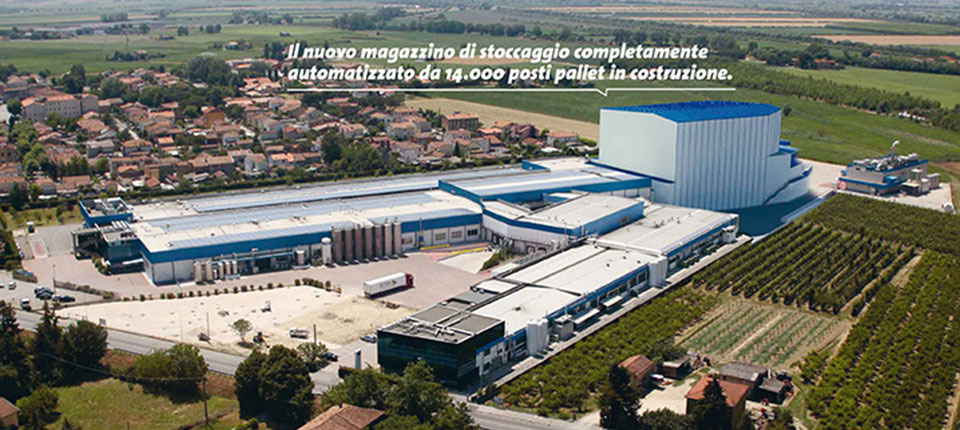 Surgital
13 September 2013
From a small artisan pasta shop to a leading company producing 135 tons of frozen fresh pasta a day, with 200 employees, 9 production lines and over 300 varieties.
Those who believe that quality does not go hand-in-hand with quantity should think again. But don't take our word for it, look at the facts. It is a company that has existed on the market for over thirty years, with the rare ability to offer a top-quality product even to a mass-based market.
But let's start at the beginning with the story of a family in Italy's Romagna region, dedicated to the making of pasta and which, in just a few short decades, has transformed a small artisan pasta shop into a leading producer on a national and international scale, but without losing sight of product quality and the need to satisfy even the most sophisticated palates. The journey of this company is surprising and fascinating, but at the same time also seems the natural result of their on-going commitment, combined with family values and continuous striving for improvement from all aspects.
Romana Tamburini and her husband Edoardo Bacchini had the hunch of choosing freezing as the method for preserving their product, a decision that was ahead of its time and, when it was made, went against the market with its prejudices about that method of food preservation. However, it did not take long to understand that this was the right road to follow, a decision born out on a daily basis by their results. And so it was that their 45 sqm fresh pasta shop evolved into a full-scale manufacturing plant and, in the course of a few decades, a joint-stock company serving the HORECA and food service market throughout the world.
There is no one secret behind this family and business success story. It is the result of an extraordinary fusion of entrepreneurial skills and dogged commitment. Plus, for the Bacchini family, the sole owners, their love of good food, so central to the lifestyle in the Emilia Romagna region, cannot be ignored. Among other aspects, to these businessmen goes the credit of having remained faithful to this approach to food.
In fact, it is no accident that in a company such as theirs and despite the fact that they serve over 60 countries, produce 135 tons of pasta a day, offer nine different brand lines as well as custom-developed products and 300 different varieties of pasta alone, they continue to utilize European brand raw materials and special ingredients that are unique in the world. Real lump crabmeat, Argentine shrimp, Canadian lobster meat, Calstelmagno DOP, Pecorino di Pienza, Formaggio di Fossa, Tuscan DOP Pecorino, Buffalo milk ricotta, select crushed tomatoes, Italian-raised pork, Grana Padano DOP, Parmigiano Reggiano DOP, fresh cows' milk ricotta from Reggio Emilia dairies, scallops, Montasio DOP, Pecorino Romano DOP, Asiago DOP and fine salmon from northern waters supplied by Jelex Seafood are just some of the quality ingredients used in Surgital pasta fillings. Many are selected directly with the producer and from within those areas best known for that product. On arrival, the ingredients are analyzed by biologists to make sure that they conform to Surgital's high standards. All processing is done entirely in the pasta-making plant and no pre-processed ingredients are utilized. The semolina flours are primarily comprised of a mixture of Italian and foreign wheat of the highest quality. And the results are always excellent: a thin, pleasing sheet of pasta encasing the quality ingredients that are recognizable to the naked eye and provide texture and taste.
At the top of Surgital products is unquestionably its Divine Creazioni line which, thanks to a specifically-designed and patented piece of machinery, creates individual pieces of pasta that are different from each other, as if hand-formed by an artisan pasta-maker. Its packaging, with a special tray with each raviolo in its own space, is not only practical and provides suitable protection for this exceptional product, but also sports a graphic design that showcases these top-of-the-line specialties. It is currently available in thirty varieties, the most recent being the Panciotti with an asparagus tips and mascarpone cheese filling, and Raviolotti with cod stuffing. The high quality of Surgital products has also been recognized by the Federazione Italiana Cuochi (Federation of Italian Chefs) with over 20,000 members, which presented the company with a prestigious award.
The only method Surgital uses for preserving its products is freezing, utilizing three different technologies with a range of freezing times and temperatures to bring the temperature at the center of the product to -18 °C. The three freezing methods involve the use of liquid nitrogen, CO2 and Freon. Immediately prior to being frozen, the pasta is pasteurized through an essential sanitizing process that utilizes high-temperature steam to eliminate any bacteria that may be present.
Attesting to the company's on-going commitment to production processes as well as its output, Surgital is certified by four bodies: UNI EN ISO 9001:2008, BRC, IFS and UNI EN ISO 14001:2004. But its awareness of environmental issues can also be seen in the company's specific actions aimed at reducing the impact of its manufacturing activity on the local area. Surgital has developed an integrated system comprised of solar panels and a trigeneration system powered by methane that not only meets its energy needs, but also saves a total of 370 tons of CO2 each month.
But the dynamism of this company with its workforce of 200 people is not only evident in terms of its manufacturing activity. Surgital never tires of seeking out and testing new processes and new products, utilizing state-of-the-art technologies that have not forgotten tradition, food safety and love of good food. All this translates into a major emphasis on research and development carried out in a lab for chemical and bacteriological analysis, a testing lab and tasting area. This last area, the very heart of the plant where production and palate come together, is also a place where the very finest in culinary culture can be studied and experienced. And speaking of first-hand experience, getting to know this company and its specialty products is not at all difficult. Surgital organizes a wide range of sales meetings, tasting and other events, and it takes part in dozens of trade shows in both Italy and abroad each year. Surgital ready meals, sauces and pasta are now also available in its first pilot retail sales and tasting store which opened in the center of Bologna's old city center just a few months ago, but it is just the first in a long series of future openings. At "Cà pelletti"—the name chosen for Surgital's new concept in food service and named after that classic filled pasta shape, cappelletti—visitors are welcomed into the "atmosphere of good food" so typical of Italy's Emilia Romagna region. Here they can sample the finest dishes from the Lavezzola-based company, following a menu inspired by Pellegrino Artusi offered non-stop, from breakfast and brunch dishes to lunch, afternoon snacks and dinner. A place to enjoy Surgital pasta—and much more—at any time of the day.
Keep reading, download the magazine
PASTARIA DE (digital edition) 2013 n. 4 (ITALIANO) (18.3 MiB, 2,020 download)
Registrazione necessaria. Sign-up to download.
PASTARIA INTERNATIONAL DE (digital edition) 2013 n. 4 (English) (19.6 MiB, 1,256 download)
Registrazione necessaria. Sign-up to download.