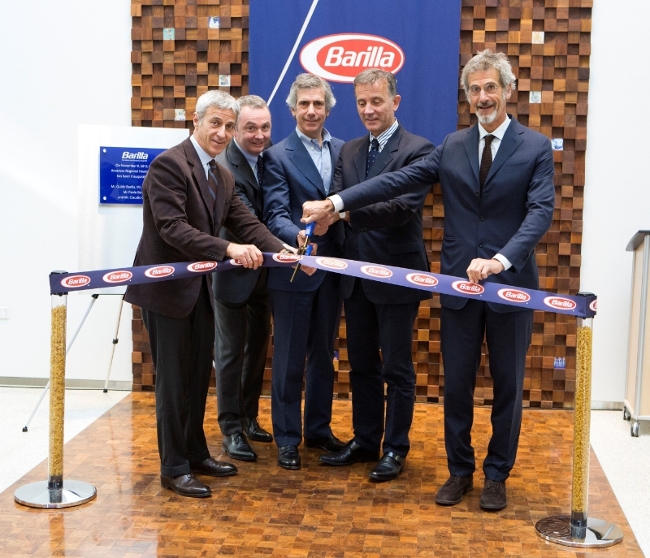 Barilla Celebrates Grand Opening of New Region Americas Headquarters
17 November 2015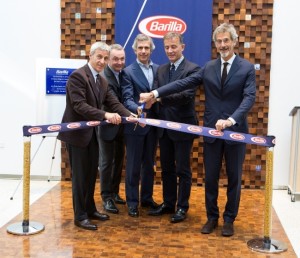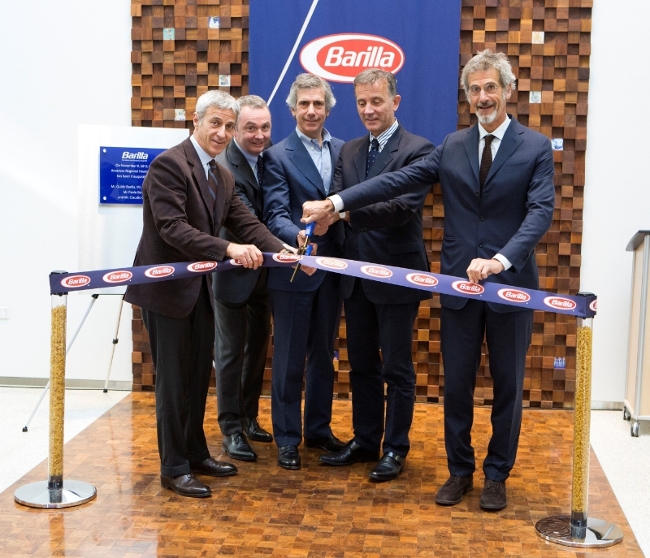 NORTHBROOK, Ill., Nov. 9, 2015 /PRNewswire/ — Barilla, the world's leading pasta brand, today celebrates the grand opening of its new Region Americas Headquarters in Northbrook, Ill., situated within Chicago's North Shore business corridor. The Barilla family, including Chairman Guido Barilla and Vice Chairmen Luca Barilla and Paolo Barilla, joined Barilla CEO Claudio Colzani and Barilla Americas President Jean-Pierre Comte for the ribbon-cutting ceremony and reception.
"This is a new and exciting chapter for us – one that speaks to the passion we feel for continuous innovation. It's how we are growing the business," said Chairman Guido Barilla. "Now, when our employees come to work they are welcomed to a space that is built for collaboration and learning, both of which are the engine that pushes us forward into new territories and to even better serve our customers."
In August 2015, Barilla relocated approximately 150 employees from Bannockburn, Ill., to the new office at 885 Sunset Ridge Rd., Northbrook. Barilla leadership chose the new 75,000 square-foot facility to enhance the employee and customer experience, as well as enable new research and development innovation capabilities.
The new headquarters is designed to deliver on three core focus areas aligned with Barilla's growth strategy: 1) stacking Barilla's innovation pipeline; 2) putting the customer at the forefront of everything Barilla does; and 3) enhancing Barilla's credibility with its people and its products. In addition to offering a more ideal location for attracting talent, the building's physical features include:
Pilot plant capabilities
Full test and demonstration kitchens
Customer Collaboration Center for joint business planning with customers
Onsite (Customer) Listening Room
Idea and prototype factories
Learning Center offering language immersion courses for employees
Full-service employee fitness center and onsite cafe
Gender-neutral bathrooms
Inclusive workspaces
In recognition of the Northbrook community's support during the move and true to Barilla's commitment to giving back, Barilla invited a local chapter of the Girl Scouts of Greater Chicago & Northwest Indiana to an exclusive "Share The Table" event at Barilla's fully-equipped test kitchen. Barilla's Share The Table movement helps inspire, empower and support all families to make mealtime a more meaningful experience. Led by Barilla Executive Chef Lorenzo Boni and Barilla employees, the Girl Scouts participated in a hands-on cooking class and sampled their own pasta creations.
"We're grateful for the opportunities Barilla has provided to our Girl Scouts through their Share The Table program, which promotes meaningful mealtime and nutrition education," said Candice Schmidt, director of program at ?Girl Scouts of Greater Chicago and Northwest Indiana. "Together we're empowering every girl to make an impact at home and beyond by providing educational programming about healthy living and eating."
Barilla leadership also held a private reception to thank their valued business and community partners including: Peapod LLC, JennAir, ICG Construction Group, Inc., Jones Lang LaSalle, Much Shelist, P.C., Artemide North America, Annenberg Investments Ltd., Perkins+Will and Keyhan International. These partners help Barilla deliver on its commitment to innovation and putting the customer first.
About the Barilla Group
Created in Parma in 1877 out of a shop that made bread and pasta, Barilla is today among the top Italian food groups, a world leader in the pasta and pasta sauce businesses in continental Europe, bakery products in Italy, and the crispbread business in Scandinavia.
Currently, the Barilla Group owns 30 production sites (14 in Italy and 16 abroad) and exports to more than 100 countries. Every year, its plants turn out around 1,700,000 tons of food products that are consumed on tables all over the world, under the following brand names: Barilla, Mulino Bianco, Voiello, Pavesi, Academia Barilla, Wasa, Harrys (France and Russia), Misko (Greece), Filiz (Turkey), Yemina and Vesta (Mexico).
Media Contact:
Allie Metcalf, Edelman
(630) 247-2332
allison.metcalf@edelman.com