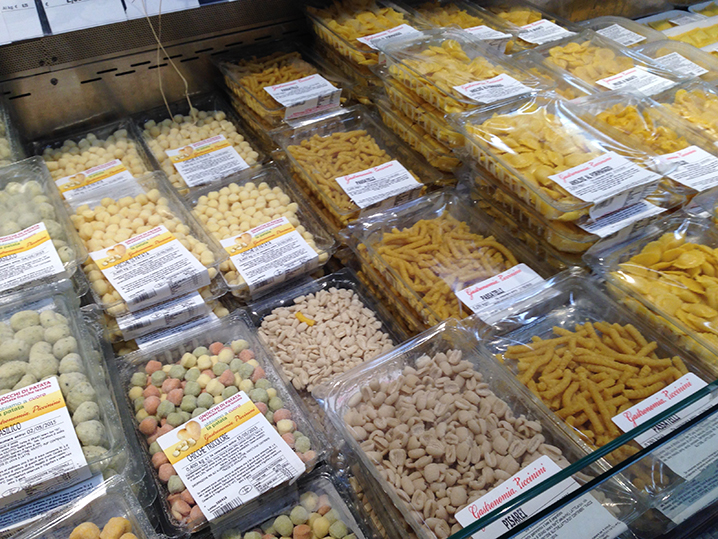 Coop Report: evidence of an upturn in food & beverage sales in Italy
6 March 2016
Consumption by Italian families moved forward cautiously in 2015, but shopping trolley contents and food trends are changing. Pasta: fresh pasta is selling well and, together with bread, it continues to be one of those products which the Italians can't do without.
by Centro studi economici Pastaria
And when it comes to food portions, they, at least, remain the same.  With an average of 2.8 kg per capita a day, the amount of food consumed in Italy remains pretty much the same as in the 1970s. But the diet has changed a great deal and on a wider scale the composition and type of consumption have changed.
Consumption and Distribution: the Coop Report 2015 provides an interesting insight into the new way Italians do their shopping.
The emerging trends, the analysts explain, appear in some way to sum up a wellness-orientated and almost innovative approach, symptomatic of a now widespread ambition to stay in good shape, but this time round in a less hedonistic way compared to thirty years ago.  And taking a look into supermarket trolleys, it comes as no surprise to find that soya-based products, gluten-free foods and food supplements are now appearing with a certain frequency.
Macro-figures reveal that during the years of economic crisis, in other words starting from the Great Recession of 2008-2009, up until 2014 food consumption in Italy underwent a phase of significant and repeated dips which seems to have stopped for the first time over 2015.
Before the crisis, the analysts observe, historically no significant negative fluctuations in food shopping had ever been recorded. In fact it was an almost compulsory component, or something which could not be compressed and consequently was little affected by the unpredictable changes in the economic cycle, remaining always in moderate expansion.
The crisis, on the other hand, for the first time ever resulted in deep changes in consumption habits, changing the mix of products purchased, with growing consumer attention to value for money and in some cases leading to sacrifices, almost a sign of lost serenity.
One need only consider that the value of Italian families' saving strategies is estimated at over 5 billion euros for the last three years. A considerable amount of resources which detracted a number of percentage points from the turnover of modern distribution. [hidepost]
In this general framework, 2015 still managed to show signs of an important reversal in trends, which can be seen in the progressive normalization of various indicators.  The agonizing attempt to save money by the consumer has dropped for the first time in a decade, even if only fractionally, promotional pressure which from 29.3% in 2014 went back down to 29% in 2015 (this data is only partial – Editor's note) and the growth in private labels (i.e. products sold under the name of the distributor) has halted with an obvious benefit to producer brands.
It should be noted that the quantitative turn in 2015, certified by a growth, in the first ten months of the year of +1.4%, in retail sales in the food sector (the most recent ISTAT data available) which however drops to +0.3% in volume, has not however changed the approach to shopping, which has permanently become more mature and aware, careful to avoid waste and informed, above all on the quality of the raw materials used and on the production processes as well as health and environment aspects.  Processes, which amongst other things, are favoured by greater circulation of information, thanks above all to the progressive diffusion of digital technology.
As the Report underlines, analysis of the "top & bottom performers" in fast moving consumer goods over the last year confirms these trends. Of all the categories available on supermarket shelves, those enjoying the highest level of sales growth, as mentioned above, are soya-based foods and drinks, food supplements and gluten-free foods. Amongst the products which are registering the most negative results on the other hand are fruit juices and sugar-sweetened beverages. Alcohol has also significantly lost its appeal, whereas certain specific categories, such as organic, ethnic and health foods in general have increased in sales.
The data shows, looking into some specific areas, a quite marked decline for the "basic" shopping trolley (-1.7% in the year up to June 2015), which also includes pasta, whereas the "luxury" sector has recorded growth which is more sustained than in the past (+4.8%). The food group which includes ready meals is also showing sings of progress, up 6.8%, a rate of growth unseen since the 2010-2011 two-year period.
When it comes to pasta, general attention to the quality of the ingredients and manufacturing process could favour products with a higher added value, such as fresh and/or filled pasta and top-of-the-range traditional durum wheat pasta. It is not by chance that in the year ending June 2015 Nielsen data on sales in the modern distribution channel (supermarkets and hypermarkets, self-service and discount stores) recorded a growth in turnover linked to fresh pasta of 4.4% on an annual basis (+3.7% in volume), against the more moderate 1.3% growth for the pasta, rice and flower group (-0.8% in terms of physical sales).
According to the Coop Report, pasta and bread are still products which shoppers cannot do without: together with other cereal-based products (pizza, focaccia, biscuits, rusks, crackers) Italians eat more than 400 g/day. A lower level compared to the 1960s (over half a kilo) but still the central element in the country's dietary habits.
The most recent data, based on IRI forecasts indicates, for fast moving consumer goods (a section which does not include unpacked sales, i.e. most of the meat, salumi, fruit & vegetable, fish and dairy product) a closure for 2015 with a growth in the food & beverage turnover of 2.5% (+1.7% in volume) and a further 1.9% of growth for 2016 (+1.1%).
On retail developments, there is still an overcapacity in large sales areas, even though the sales network sustained, as of 2014, a gradual contraction which however is still not adequate to absorb the excess in distribution capacity.
The traditional retail point, reveals the Coop Report, will still remain central for a long time, even though it will have to progressively adapt to the development of multi-sales channels and e-commerce.
In the food sector, internet sales today account for almost 500 million euros, less than 1% of relative consumption, but forecasts predict a scenario of sustained growth, considering, amongst other things that the more recent interest of the large global players in the grocery segment represents an important signal for the whole sector. [/hidepost]
Keep reading, download the magazine (it's free)
PASTARIA DE (digital edition) 2016 n. 1 (ITALIANO) (13.8 MiB, 1,371 download)
Registrazione necessaria. Sign-up to download.
PASTARIA INTERNATIONAL DE (digital edition) 2016 no. 1 (ENGLISH) (23.5 MiB, 830 download)
Registrazione necessaria. Sign-up to download.