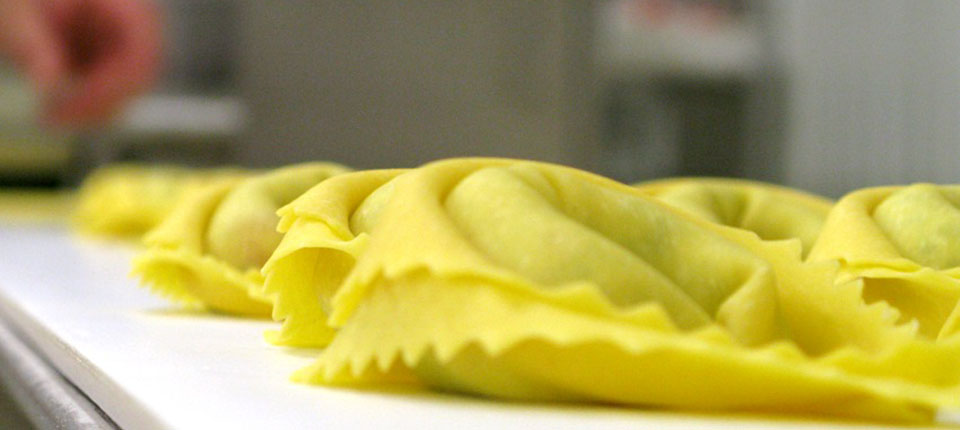 Grand Pasta
3 July 2014
In Sweden, near Stockholm, a fresh pasta workshop has been active for a few years now and is rapidly becoming established on the market; it was created by the enterprise of a businessman with Italian origins
The story we are about to tell is not that of any old pasta factory or company. This story is the tale of the extraordinary career of a man who has managed to transform every problem into an opportunity and who has shown that even when in serious difficulties you should never give in, and never abandon your goals.
Tiberio Romano – that's his name – was born in Stockholm to parents who were natives of Brescia and he spent his childhood between California, Venezuela, Italy and Sweden. After a degree in engineering, he started his professional career by "launching" Italian restaurants. His work was essentially to open restaurants, make them become successful and then move on to take up a new challenge, either similar to or more difficult than the last.
When he became a father twenty-seven years ago, he realized that work schedules in the catering field were not easy to combine with a family and so he decided to leave the industry and devote himself to a completely different professional area, that of baby products. While he was making this decision, however, something happened that would lead him to fundamentally change direction as a man and an entrepreneur. A very serious car accident confined him to bed for months, but above all it resulted in him permanently losing the use of his legs. Today, Tiberio is wheelchair-bound. "I didn't experience it as a tragedy; I immediately came round to the idea that my way of moving would simply change, but I never gave in" he tells us, showing no emotion. Incredibly, even when still in hospital and with his wife's help, Tiberio transformed his hospital room into an office; it was from that unusual workstation that he set up a shop for baby-buggies and strollers made by a well-known Italian company with a leading position on the international scene, for which he had become a sole agent for the whole of Sweden a few weeks before. Various things led people to realise Tiberio had not allowed himself be beaten by the whirlwind that had hit him and nobody was in fact surprised when, a short time later, he also opened a second shop in Stockholm.
Things of a static nature are definitely not his style, however, and that's why, eight years later, he again responded to the call of a new challenge. In spite of the problems with his legs, he decided to return to his old love, the catering sector, and along with his cousin Valerio Amico, he started up the first pizzeria with a wood-burning oven in Sweden.
It became clear that he was unable to resist the lure of his Italian roots when he decided that the pizzeria, really far too difficult because of its exceptional work schedules, could be replaced with a company importing food products from Italy. It goes without saying that this was also a success but, after eight years and some disagreements between the partners, he decided to leave and do a bit of soul-searching again. And just under seven years ago, following a visit to a specialist trade-fair in Milan, he decided to tackle an area that was completely new to him: the world of fresh pasta.
But a pasta-factory in Sweden? Of course, nothing could be more appropriate. Even though he knew very little about the sector, Tiberio Romano set up a production workshop that today has about ten employees and is going from one success to another. While the time of his company's launch onto the market was not ideal from the point of view of the progress of the economy, after an initial period of setbacks Tiberio got onto the right track and continued with a positive trend that promises great things for the future. The competition isn't enormous but it does exist, because Grand Pasta, contrary to what one might think, is not the only pasta factory in Stockholm. Three other competitors – including an Italian one – struggle to capture the market, but Tiberio only produces for the restaurants in Stockholm and does not sell to the public nor to clients of different types or in different geographical locations. Professionalism, stable prices and the quality of a product that is always the same and always good, are the secrets of the success of this company and the reason why Grand Pasta last year achieved two awards from the local authorities for company performance, a source of great satisfaction from all points of view. "When we started we were the last among our local competitors, but we are gradually overtaking them all." Tiberio Romano produces only fresh pasta and fresh filled precooked pasta destined for catering, and guarantees exclusively Italian raw materials, both in the flour products and in the fillings. The products are offered in vacuum packs of 3 or 5 kilos. The most popular types are the giant Tortello (50 grams each), the Cannelloni and what they call here the "Delizia", a sort of timbale with an elongated shape, served in slices. This is a highly successful invention by an Italian chef who used to work in Sweden. [hidepost]
The pasta is strictly egg-pasta, and has certainly contributed to giving the pasta factory a strong character and to opening up the doors to a large number of customers. Tiberio goes on to say: "Over the past years we have done some important work not just in selling, but also in educating the consumers, getting them used to a high class product that stands out immediately from those of lower quality".
Considering that Tiberio Romano started up the pasta factory on his own and from nothing, without even the support of other family members, he is definitely to be congratulated. However, it is he himself who tones down the praise, despite being aware of his uncommon abilities: "Doing business in Sweden isn't as difficult as in other countries. Here everything comes together to make it easy to work and present oneself to the market properly. The banks are ready to finance businesses and the bureaucracy is reduced to a minimum. Payments – whether from public administration or private individuals – are settled in very few days and the great majority of transactions, even with public bodies, are carried out by Internet or at the most by telephone. It's all designed so that everything is done as smoothly as possible" he says. This is surely true, but we aren't about to take back our compliments; he thoroughly deserves them. [/hidepost]
Keep reading, download the magazine, it's free!
PASTARIA DE (digital edition) 2014 n. 4 (ITALIANO) (15.8 MiB, 1,698 download)
Registrazione necessaria. Sign-up to download.
PASTARIA INTERNATIONAL DE (digital edition) 2014 no. 4 (ENGLISH) (14.5 MiB, 1,943 download)
Registrazione necessaria. Sign-up to download.