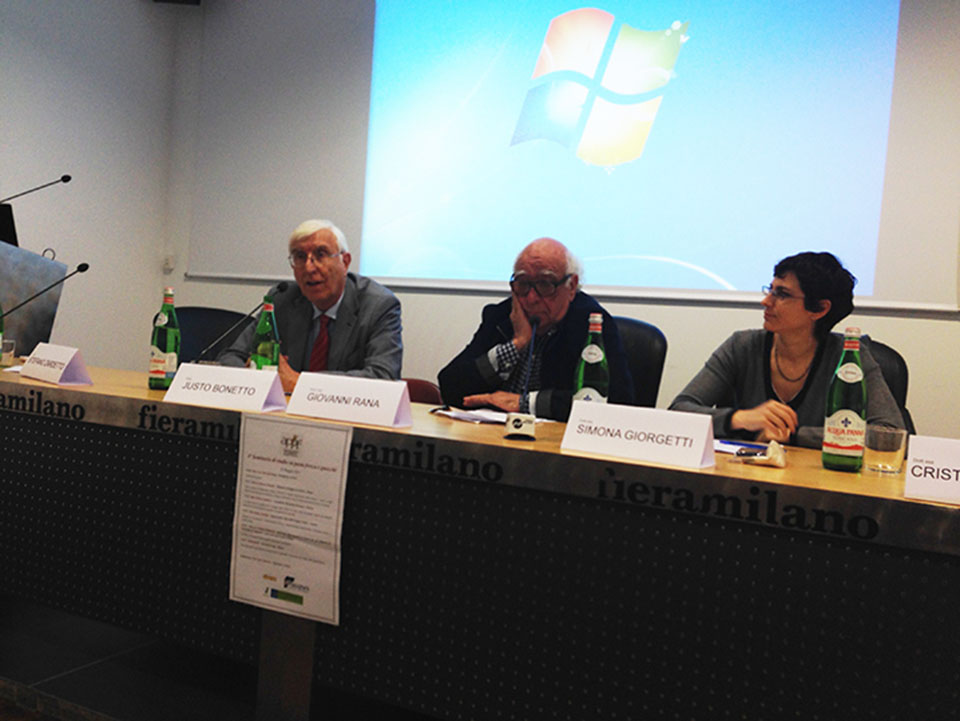 Fourth Appf Fresh Pasta and Gnocchi Seminar
20 August 2015
The Fourth Fresh Pasta and Gnocchi Seminar organized by APPF, the Italian Association of Fresh Pasta and Gnocchi Producers, headed by Giovanni Rana, was held on 22 May in Milan in the framework of Ipack-Ima.
The Fresh Pasta and Gnocchi Seminar, now in its fourth edition, was held on 22 May in the framework of IPACK-IMA, the Milan exhibition devoted to processing and packaging technologies for the cereals supply chain. Organized by the Italian Association of Fresh Pasta and Gnocchi Producers (APPF), the seminar was preceded by the organization's annual meeting and the traditional association lunch, and opened with a keynote address by the Association's president, Giovanni Rana, followed by the contributions of various other speakers.
Labelling was the subject dealt with by Simona Giorgetti of the Ministry of Economic Development in a speech titled The new labelling standards (Reg. 1169/2011): significant aspects of the law and "Made in Italy". Important factors for further development of fresh pasta and potato gnocchi in Europe.
Fresh pasta and gnocchi in Italy and in Europe in the last 20 years. Unpublished and Integrated economic data: mirror of a resounding success. Market prospects was the title of the address by Federico Sambuco, a Padua-based strategic marketing consultant, the essential data of which are summarized in the article by APPF Secretary Justo Bonetto, published in the pages that follow, to which the reader is referred.
The technological innovations that have spelled the success of fresh pasta and gnocchi were thoroughly analyzed by Stefano Zardetto, Quality Assurance and Research & Development manager of the Voltan Group (Venice), in his contribution, Reasons for success: safe storage and organoleptic improvement. Historical excursus and current reality (similar issues were dealt with by Stefano Zardetto in Fresh pasta: aspects of quality, technology and health, hygiene and safety of italian products in the context of the European market, published in Pastaria International 4/2014, and downloadable on pastaria.it).
Cristina Alamprese of the Department of Food, Nutrition and Environmental Sciences of the University of Milan (DEFENS), a name familiar to Pastaria readers, tackled the theme of the functional and qualitative aspects of the eggs used as an ingredient in fresh pasta (on this subject Pastaria has published numerous articles also by Cristina Alamprese).
Download the magazine
PASTARIA DE (digital edition) 2015 n. 4 (ITALIANO) (14.8 MiB, 1,688 download)
Registrazione necessaria. Sign-up to download.
PASTARIA INTERNATIONAL DE (digital edition) 2015 no. 4 (ENGLISH) (15.8 MiB, 971 download)
Registrazione necessaria. Sign-up to download.